Apothecary Goods
Regular price
Sale price
$40.00
Unit price
per
Sale
Sold out
Discover the hidden strength and compassionate nature of the Norse goddess Hlin with our exquisite Hlin Protector Mala/Prayer Necklace. Named after this little-known deity, whose very name translates to "protector," this sacred accessory is a tribute to her timeless wisdom and association with the influential goddess Freya, wife of Odin.
Harness the Power of Indian Agate
Crafted with meticulous care, this mala/prayer-style necklace/bracelet features genuine Indian Agate beads. Indian Agate is renowned for its protective properties, instilling courage and strength in those who wear it. Each bead showcases a unique array of colors, with a subtle touch of evergreen, evoking the tranquility and solace of nature. Hand-knotted individually, these beads reflect the devotion and attention to detail that goes into creating this extraordinary piece.
Symbolic Shield of Protection
Symbolizing Hlin's role as a shield and protector, this mala/prayer necklace carries the essence of her divine energy. Just as Hlin safeguards those favored by Frigga, the goddess of destiny, this necklace offers refuge from harm and shields its wearer from negative influences. Embrace the protective aura that surrounds you, knowing that you are connected to the ancient wisdom of Norse mythology.
Aesthetic Beauty with Tree of Life Pendant
Enhancing the allure of the Hlin Protector Mala/Prayer Necklace is a captivating Tree of Life pendant, representing the interconnectedness of all living beings. Its intricate design and profound symbolism add a touch of elegance and spiritual significance to the piece. Completing this enchanting creation is a majestic golden tassel, a symbol of abundance and prosperity.
Versatile Wear for Constant Connection
Experience the profound connection and uplifting vibrations of the Hlin Protector Mala/Prayer Necklace by wearing it in a way that resonates with you. Let it grace your neck as a beautiful necklace, or wrap it around your wrist as a comforting bracelet. This versatile accessory ensures that the vitality and positive energy of each crystal bead remain close to you at all times, offering continuous support and guidance on your spiritual journey.
Embrace Hlin's Legacy
Step into the realm of Norse mythology and embrace the essence of Hlin, the protector and compassionate goddess. Allow the Hlin Protector Mala/Prayer Necklace to guide you on a path of courage, strength, and inner peace. Experience the harmonizing energy of Indian Agate and the symbolic power of the Tree of Life pendant as you connect with the ancient wisdom and protective embrace of Hlin.
Shop with confidence knowing that all of our products are created and shipped from the USA. Say goodbye to long wait times and hello to fast shipping! We guarantee to ship out all orders the very next day.
Shop with confidence knowing that all Apothecary Goods products are created and shipped from the USA. Say goodbye to long wait times and hello to fast shipping! We guarantee to ship out all orders the very next day.
"Norse goddess," "Hlin protector," "Indian Agate," "courage and strength," "compassionate nature," "Tree of Life pendant," "golden tassel," "versatile wear," "spiritual journey," "Norse mythology," "divine energy," "positive energy," "profound connection,"
Share
View full details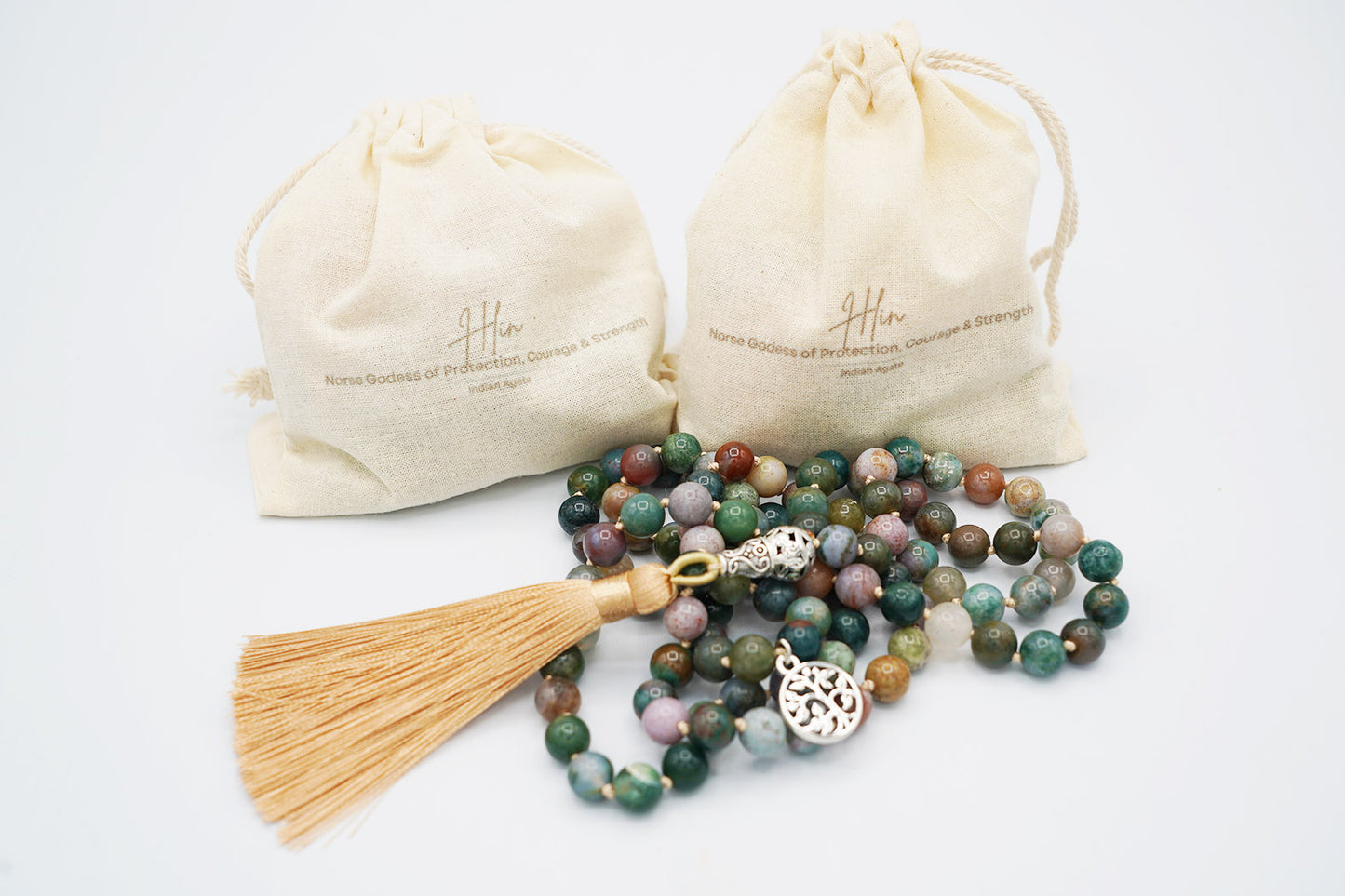 Collapsible content
Handmade in small batches

That Witch Beauty line of products are handmade in small batches from some of the best ingredients around.
Designed with Intention

At That Witch Beauty products it is our belief that beauty starts in the mind and encompasses the energy that surrounds you.  As you develop comfort in embracing your uniqueness; the true individual that you are, the external beauty begins to flow naturally.
Shipping

Most items are shipping on the next business day from receiving the order. As always, free shipping with orders over $50!
Ingredients

Great care is taken when souring raw materials for production of That Witch products.
Cautions

Products are made with many naturally derived ingredients, which in rare cases may cause sensitivity in certain individuals. If sensitivity occurs, discontinue use immediately. Do not spray mist directly on plastics or leather. All products are intended for external use only. Due to the use of pure essential oils, always test any products in a small area first. Some separation may occur with oils, please shake well prior to using. As with all essential oil products, please contact a physician prior to use if pregnant or nursing.