Apothecary Goods
Regular price
Sale price
$40.00
Unit price
per
Sale
Sold out
Step into the realm of ancient wisdom with Bastet's Powerful Energy Mala. These exquisite intention beads, crafted from Pink Jade and Smoky Quartz, embody the power and grace of the legendary goddess Bastet. Experience the transformative energies of love, protection, grounding, stability, and calm as you adorn yourself with these beautiful beads.
Embrace the Energy of Bastet
Bastet, the revered Egyptian goddess, epitomizes love, protection, and empowerment. With Bastet's Powerful Energy Mala, you can tap into her divine essence and channel her fierce and nurturing energy. The pink Jade beads symbolize love, wealth, and protection, enveloping you in a cocoon of positive vibrations. The smoky quartz beads ground your spirit, providing stability and a sense of calm in the face of life's challenges.
Unleash Your Inner Warrior
Embrace your inner warrior with the mama bear vibes of Bastet's Powerful Energy Mala. Let the strength of empowered protection course through your veins, boosting your confidence and shielding you from negativity. Each bead serves as a talisman, a powerful reminder of your own resilience and ability to overcome obstacles. Feel the energy of the goddess flowing through you, guiding and protecting you on your journey.
A Mala Designed for Modern Warriors
Bastet's Powerful Energy Mala is more than just a piece of jewelry; it's a sacred tool for self-discovery and empowerment. Each bead has been carefully selected to ensure its energetic properties align with your intentions. The combination of pink Jade and smoky quartz creates a harmonious balance, awakening your senses and igniting your inner strength.
Experience the Magic
Hold the energy of the goddess in your hands and feel the magic radiate through your being. As you wear Bastet's Powerful Energy Mala, allow its energy to infuse your spirit, providing you with a sense of protection, stability, and love. With each bead, you embark on a journey of self-transformation and empowerment.
Embrace the Power of Bastet's Powerful Energy Mala
Unleash the energy of the goddess within you. With Bastet's Powerful Energy Mala, you can embody the strength, protection, and stability of the ancient goddess. Allow the pink Jade and smoky quartz beads to envelop you in their loving embrace, guiding you towards a life filled with abundance, resilience, and inner peace.
Shop with confidence knowing that all Apothecary Goods products are created and shipped from the USA. Say goodbye to long wait times and hello to fast shipping! We guarantee to ship out all orders the very next day.

Share
View full details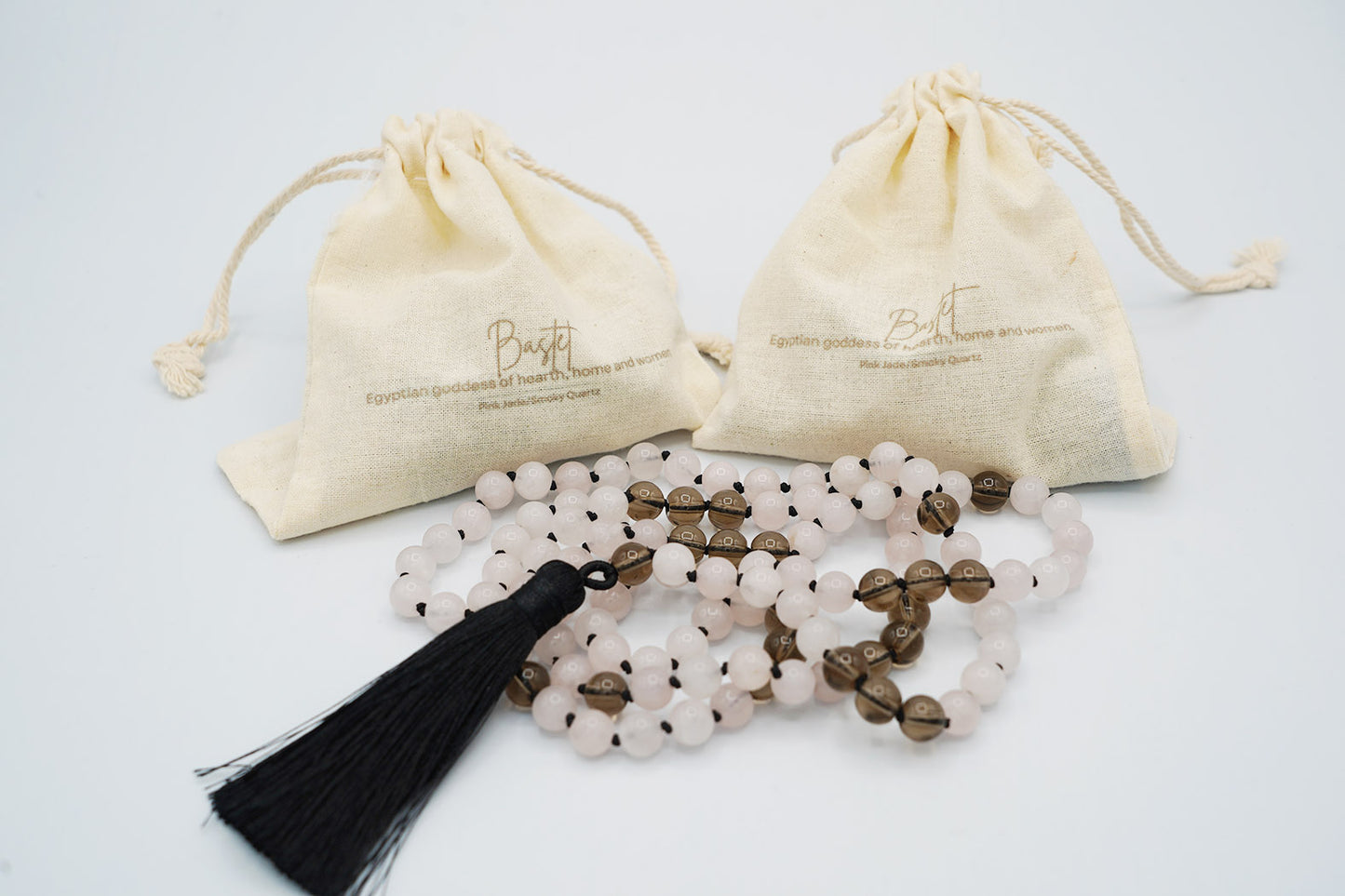 Collapsible content
Handmade in small batches

That Witch Beauty line of products are handmade in small batches from some of the best ingredients around.
Designed with Intention

At That Witch Beauty products it is our belief that beauty starts in the mind and encompasses the energy that surrounds you.  As you develop comfort in embracing your uniqueness; the true individual that you are, the external beauty begins to flow naturally.
Shipping

Most items are shipping on the next business day from receiving the order. As always, free shipping with orders over $50!
Ingredients

Great care is taken when souring raw materials for production of That Witch products.
Cautions

Products are made with many naturally derived ingredients, which in rare cases may cause sensitivity in certain individuals. If sensitivity occurs, discontinue use immediately. Do not spray mist directly on plastics or leather. All products are intended for external use only. Due to the use of pure essential oils, always test any products in a small area first. Some separation may occur with oils, please shake well prior to using. As with all essential oil products, please contact a physician prior to use if pregnant or nursing.