Apothecary Goods
Regular price
Sale price
$32.00
Unit price
per
Sale
Sold out
We know we're so punny, but seriously, we are so excited to announce our "Witches Flight" for those of you who need to get your hands on a product to fall completely in love.  Or those of you who are just not sure which witch you are.  We have the solution.  A sample pack of all of our year round body washes, so you can find your favorite.  All the scents are so different, yet scrumptious in their own ways.
Each bottle is 4oz so you have enough to figure out exactly which witch you are.
DESCRIPTION
Sea Witch
Sea witches define themselves, as working their magic through the sea, this could mean keeping sea water on your alter at home, or working your magic on the shores of the sea.  Sea Witches may worship deities like Poseidon, Aphrodite, water nymphs, mermaids and even sea creatures.
Maybe your definition of a sea witch is loving to spend time on an ocean side beach, just soaking in the sun.
Regardless, Our Sea Witch Body wash has a light, clean fresh scent.  The essential oils are for nourishing and moisturizing your skin.
This hand made body wash is formulated with moon water, and just the amount of essential oils to keep your skin hydrated and looking like it too.  With added Amethyst crystals for calming energy that brings feelings of serenity, peace and tranquility and is also a highly protective.
Sea witch smells like the morning after a storm rolls through on the shores of Cape Cod.  With hints of sweetness to let you know that brighter days are coming. 
Forrest Witch
Nature lovers that harness their magic from the bounties of the forest. Through the ages, Forest Witches have foraged the woods and forests for plants, herbs, bones and soil to use in their practices.
Forest Witches feel at home and find peace and calm in the natural beauty of the forests and woods. They are energized by the serenity of their surroundings and find meditation in that environment fulfilling and satisfying.
If you feel reborn when in the cool and peaceful beauty of the forest or woods, this body wash is the perfect choice for you. You will be tantalized by the magical mossy, tangy cedar scent as your senses open to the start of each new day. When you step out of the shower, you will feel like your footsteps exude the powerful grace and purpose of the fairies.
Forest Witch Body Wash 
is formulated with moon water, essential vitamin oils for nurturing your delicate skin and green fluorite crystals to align your spirit. Green Fluorite represents pure mental focus, enhances mental ability and is thought to be the highest level of awareness one can achieve.
Forest witch smells like stepping into an enchanted woodland in early summer,  just after a rain shower.  With hints of sweet pine and a fresh crisp undertone.  This scent is perfect for the forest witch who's been hiding inside of you.
Mountain Witch
Through their love of nature and the grounding effects of the wilderness, the Mountain Witch comes alive. The serenity of the mountains and wildlife within, becomes the perfect magical place to meditate, manifest, heal and rejuvenate. The mountains cleanse their spirit and vibrations and make them feel beautifully alive.
The moon charged water and essential oils help calm inflammation and joint pain. Whether you're an old crone with a young spirit or just a witch who deals with aches and pains, Mountain Witch Body Wash provides the magic needed for your daily routine.
Each bottle is infused with Amethyst to help you get out of your head and back into your heart. Inhale this fragrant body wash and let the fresh mountain air with its tantalizing magic envelop your whole being. Its empowering essence will renew your spirit each time you use it.
Mountain witch smells like all the seasons happening at once.  Crisp as an early winters morning with undertones of a mid summers dewy evening.  This scent will have your head in the clouds while staying grounded and present.
 Mystic Witch
Mystic Witches have unworldly knowledge and experiences not imposed by outside forces. They are spiritually enlightened, self-empowered, and mystically aware.
Mystic Witches take life in stride and know there are no coincidences. They trust their intuition, and know that the true meaning to life is to live in the moment. Whatever paths you have followed, you can still be a Mystical Witch by trusting your intuition and loving yourself unconditionally. Mystic Witches embrace both the light and the dark side of life and always transcend to the top.
This magic potion is just what you need to boost your mood and your vibration and alter your minds spirit. You will feel like you can take on the world.
Mystic Witch Body Wash conjures good vibes and powerful energy with the scent of citrus and sweet vanilla. It's sweet and tangy just like the Mystic Witch's spell binding personality. The essential oils in this magic potion are not only for beautification of the skin, but help elevate moods and leave you feeling more solidly grounded. The infusion of Kunzite crystals helps connect your heart with your mind to keep your intuition flowing freely. Lapis Lazul, with it's deep, celestial blue, remains the symbol of royalty and honor, gods and power, spirit and vision. Lapis Lazuli is a recognized symbol of wisdom and truth.
Mystic Witch smells like enjoying a zesty cool beverage on a wrap around porch in the outskirts of New Orleans.  With the notes of sugared citrus,  this scent is sure to have you feeling focused and motivated the entire day.
 Cosmic Witch
A cosmic witch is anyone who utilizes planetary and celestial energy to guide them.  They are so much more than astrology junkies,  they trust the signs, the planets and the universe to guide them through life's ups and downs.  They know that the energy of the universe is so much bigger than they are, and trust that the sky above has bigger plans for them.
Working with the lunar phases. This is another way that many witches already practice cosmic witchcraft. The moon calls to you as she waxes and wanes. Working with her is a very natural way to ease yourself into cosmic witchcraft.
The ingredients in our Cosmic Witch body wash are just as mystical as the universe it's self.  These amazing essential oils born of our earth herself, with moisturizing, anti inflammatory, scar and stretch mark reducing and even anti-acne, this luxurious body wash will take your skin care to another level.  Infused with Howlite and Amethyst crystals to keep ourselves grounded and feeling safe and secure wherever we may be.  The smell is soft and comforting and makes you feel relaxed and ready to conquer the world.
Cosmic Witch smells like the magic of the universe.  Sweet and tangy with a hint of ripened berries.  This scent is sure to have you feeling the high vibrations that are calling to you all day long.
ADDITIONAL INFORMATION
| | |
| --- | --- |
| Weight | 1 lbs |
| Dimensions | 12 × 9 × 6 in |
| Sea Witch Ingredients and Information | Contents include: Glucoside, Moon Water,Ylang Ylang, Tea Tree Oil, Chamomile, Ashwagandha, Lavender, Rose Hip, Carrot Seed, Clary Sage, Natural Preservative, Lactic Acid |
| Forest Witch Ingredients and Information | Contents include: Glucoside, moon water, yogurt filtrate, pomegranate seed oil, vitamins A, D, B and E, blue tansy, lemon, Brazilian orange, St. John's Wort, natural preservatives and lactic acid. |
| Mountain Witch Ingredients and Information | Contents include: Glucoside, Moon charged water, lavender, Helichrysum, Chamomile, Dead Sea Salt, Lactic Acid, and natural Preservatives. That Witch Beauty products are not made for consumption. |
| Mystic Witch Ingredients and Information | Contents include: Fragrance, Glucoside, Moon Water, Neroli, Lemon, Brazilian Orange, Peppermint, Yogurt filtrate, Vitamin A, Vitamin E Brazilian Orange, Ashwagandha, St John's Wort, Dead Sea Salt, natural preservatives and Lactic Acid. That Witch Beauty products are not made for consumption. |
| Cosmic Witch Ingredients and Information | Contents include: organic glucoside moon charged water, echinacea, PolySorbate 80, Rose Hip oil, Vitamin c, Neroli, Vitamin A, Vitamin D, Green Coffee bean oil, Vitamin E, Lactic Acid, fragrance, Natural and organic preservatives. |
| General Caution | Products are made with naturally derived ingredients, which in rare cases may cause sensitivity in certain individuals. If sensitivity occurs, discontinue use immediately. All products are for external use only. |
Share
View full details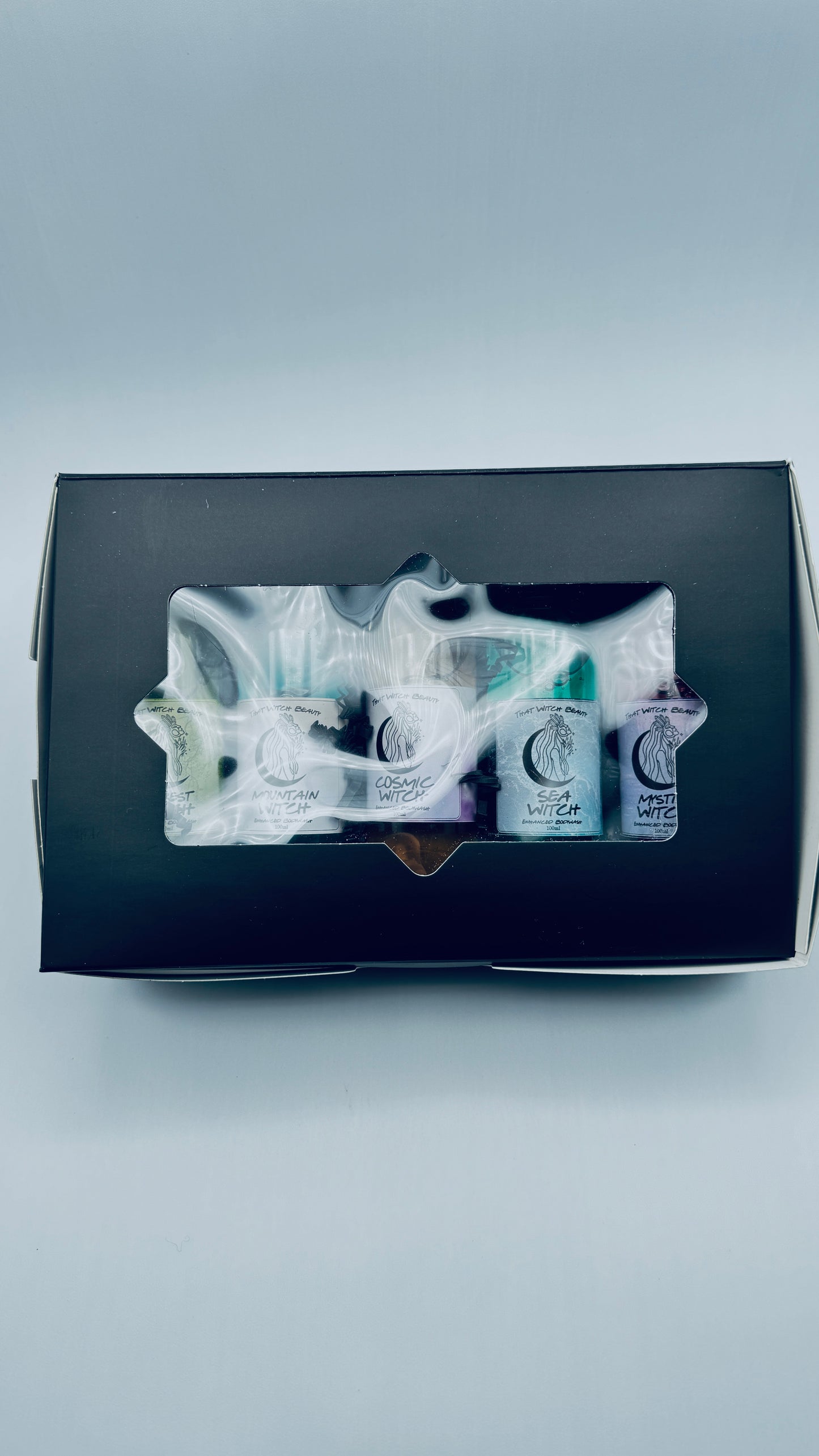 Collapsible content
Handmade in small batches

That Witch Beauty line of products are handmade in small batches from some of the best ingredients around.
Designed with Intention

At That Witch Beauty products it is our belief that beauty starts in the mind and encompasses the energy that surrounds you.  As you develop comfort in embracing your uniqueness; the true individual that you are, the external beauty begins to flow naturally.
Shipping

Most items are shipping on the next business day from receiving the order. As always, free shipping with orders over $50!
Ingredients

Great care is taken when souring raw materials for production of That Witch products.
Cautions

Products are made with many naturally derived ingredients, which in rare cases may cause sensitivity in certain individuals. If sensitivity occurs, discontinue use immediately. Do not spray mist directly on plastics or leather. All products are intended for external use only. Due to the use of pure essential oils, always test any products in a small area first. Some separation may occur with oils, please shake well prior to using. As with all essential oil products, please contact a physician prior to use if pregnant or nursing.