Apothecary Goods
Regular price
$74.00
Sale price
$60.00
Unit price
per
Sale
Sold out
Introducing the Furry Familiars Collection: Elevate Your Pet's Grooming Game!
Your fur baby is more than just a pet; they're a cherished member of your family. That's why we've created the Furry Familiars Collection, a line of premium, all-natural pet grooming products that cater to your pet's every need. Crafted with love and care, our products offer a spa-like experience for your four-legged friend, ensuring they look and feel their best. From Boujee Beans Paw and Nose Balm to Luna Lather Waterless Shampoo, Pawsh Wash Moisturizing Pet Shampoo, and Eau De Pawfume Pet Calming Perfume, we've got you and your furry companion covered.
🐾 Boujee Beans Paw and Nose Balm 🐾 Spoil your pet with our Boujee Beans Paw and Nose Balm, a soothing and natural solution for dry, cracked paws and noses. Because your pet deserves nothing but the best, just like any other family member!
🌙 Luna Lather Waterless Shampoo 🌙 Life can get messy, but with Luna Lather Waterless Shampoo, you can keep your pet clean and fresh without the hassle of a full bath. It's the perfect solution for busy pet parents like you.
🚿 Pawsh Wash Moisturizing Pet Shampoo 🚿 Elevate your pet's bath time with Pawsh Wash Moisturizing Pet Shampoo. This luxurious formula cleanses, conditions, and nourishes your pet's coat, leaving it soft, shiny, and ready for cuddles.
🌸 Eau De Pawfume Pet Calming Perfume 🌸 Promote relaxation and tranquility for your beloved pet with our Eau De Pawfume Pet Calming Perfume. It not only keeps your furry friend smelling delightful but also adds an extra layer of pampering to their grooming routine.
Why Choose Furry Familiars? ✅ All-Natural Goodness: Our products are made with the purest, natural ingredients, providing your pet with the love and care they deserve.
✅ Handcrafted Excellence: Each product is meticulously handcrafted to ensure top-notch quality, just like you'd expect for any member of your family.
✅ Pet-Centric Care: Our gentle and safe formulas are tailored to meet the unique needs of your pet, making grooming a delightful bonding experience for both of you.
✅ Exceptional Results: Furry Familiars products deliver outstanding results, ensuring your fur baby is always looking and feeling their absolute best.
Pamper your furry family member with the Furry Familiars Collection. Your pet's happiness and well-being are our top priorities because they're not just a pet; they're a beloved part of your life. Experience the difference that natural, handcrafted grooming products can make for your cherished companion.
📦📦Shop with confidence knowing that all Apothecary Goods products are created and shipped from the USA. Say goodbye to long wait times and hello to fast shipping! We guarantee to ship out all orders the very next day.
Disclaimer: Pure essential oils can cause irritation. Always test in a small area and discontinue use if irritation occurs. For external use only. Keep out of reach of children.
These statements have not been evaluated by the Food and Drug Administration. This product is not intended to diagnose, treat, cure, or prevent any disease.
Our ingredients are all made and found in nature . We meticulously source the purest of essential oils straight from the source.
We encourage you to consult your healthcare provider prior to use if you are pregnant, nursing, trying to conceive, taking any medication or if you have a medical condition. 
Share
View full details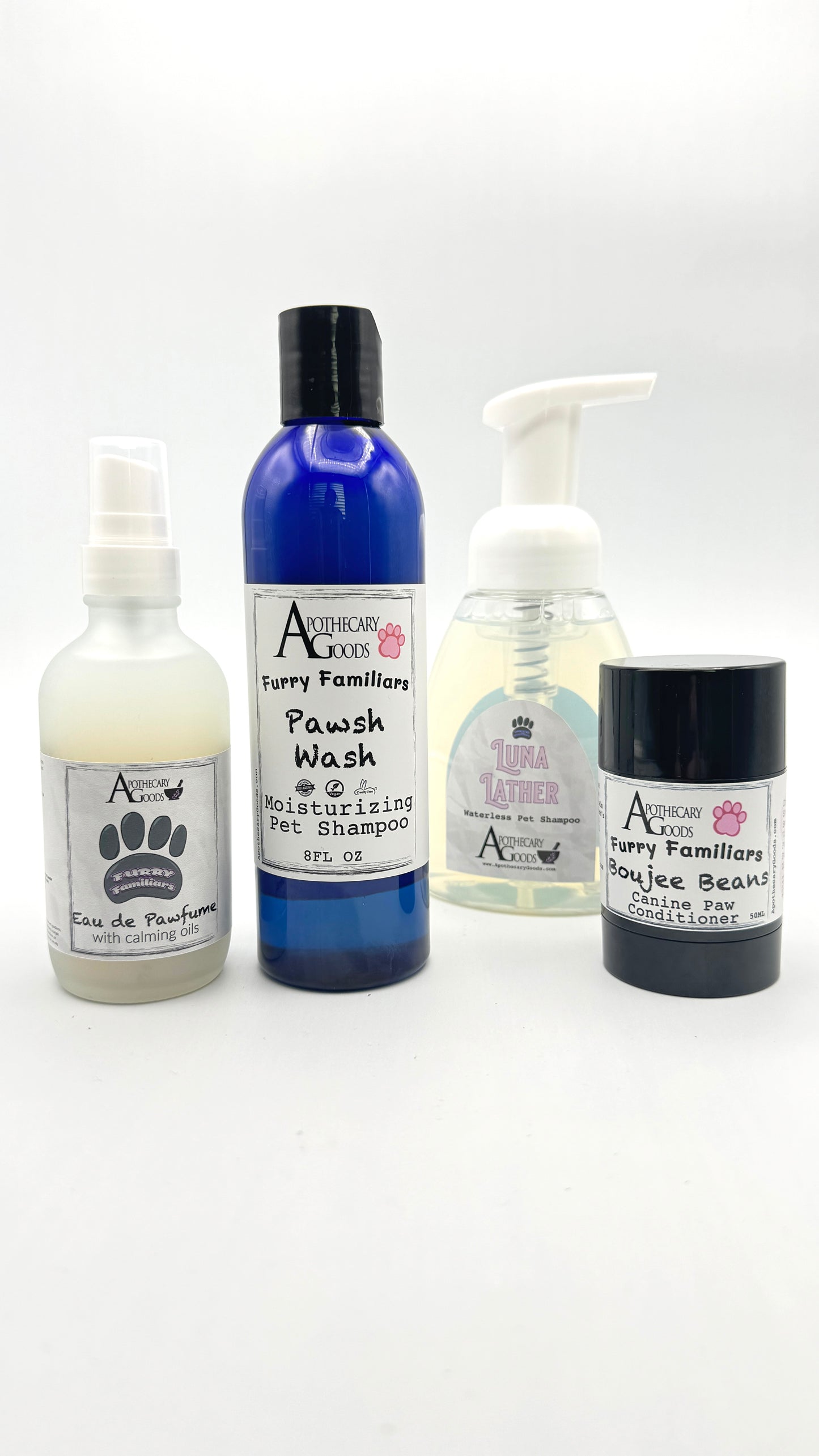 Collapsible content
Handmade in small batches

Apothecary Goods line of products are handmade in small batches with the best ingredients possible. Our process uses traditional methods to ensure a quality, unique product. =Our range of products are created to bring a little joy and wellbeing into your life. We believe that everyone deserves a touch of luxury. We offer high quality products, crafted with care and love, to help you relax and make life a little better..
Shipping

Most items are shipping on the next business day from receiving the order. All orders over $50 receive free shipping.
Only the best for you

Great care is taken when sourcing raw materials for production of Apothecary Goods products.
Cautions

Products are made with many naturally derived ingredients, which in rare cases may cause sensitivity in certain individuals. If sensitivity occurs, discontinue use immediately. Do not spray mist directly on plastics or leather. All products are intended for external use only. Due to the use of pure essential oils, always test any products in a small area first. Some separation may occur with oils, please shake well prior to using. As with all essential oil products, please contact a physician prior to use if pregnant or nursing.